Starting digital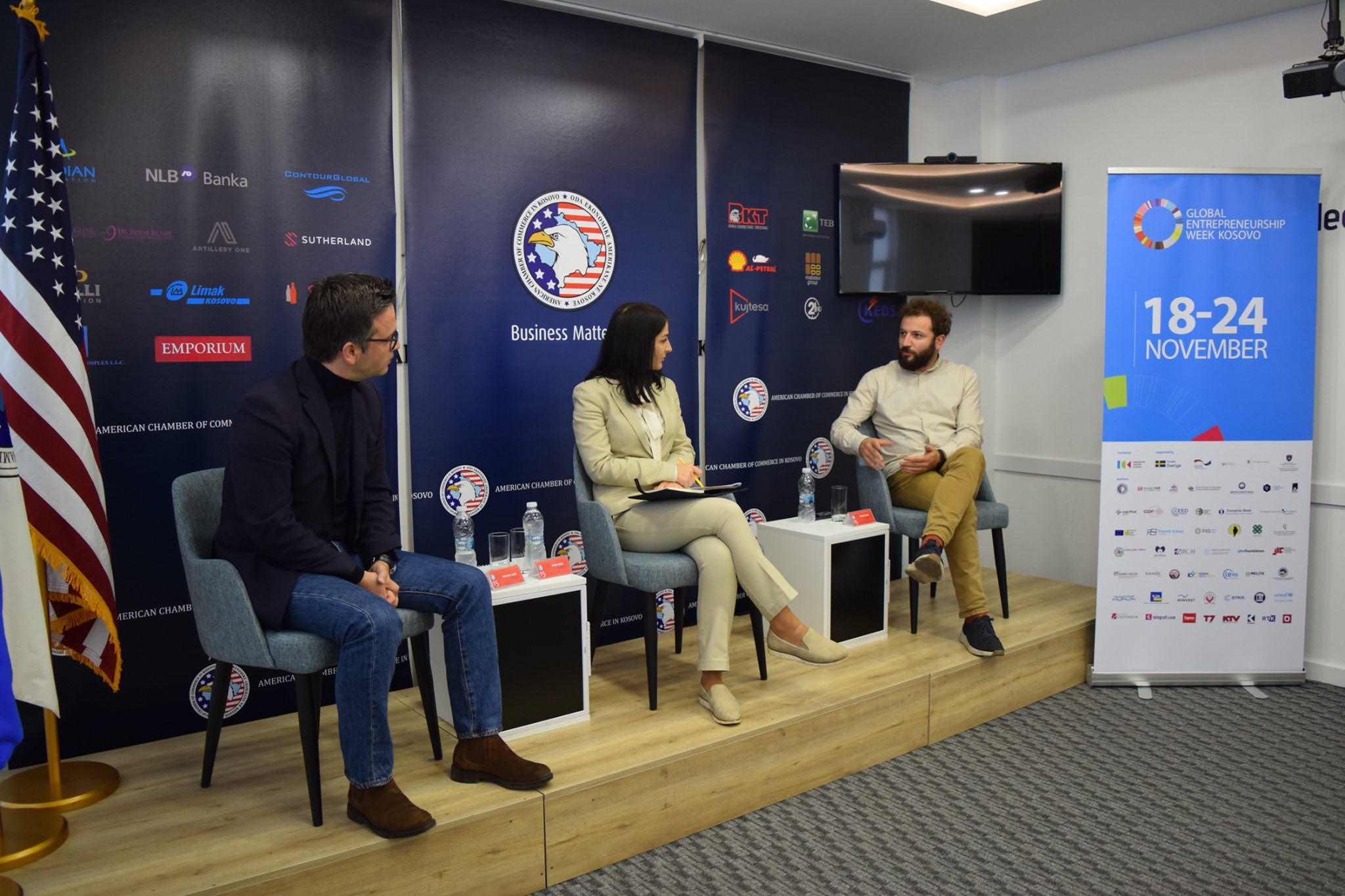 Digital approach has now become the popular stream where every business is stepping into the new strategy to build a high competitive strength. Starting digital is the leading way to foster the business, increasing the customers as well as making business a supreme.

The extraordinary development of digitization has gained the attention of every entrepreneur who aims to grow his business. Therefore, Kosovo is in its best moments for further development of this field. Within a few years, the awareness of the importance of digitization for businesses and the benefits come from it have grown substantially.
This round-table, called by the American Chamber of Commerce in Kosovo on the topic: Starting Digital with Arianit Fazliu – "Kutia" and Mentor Latifi- "Sutherland", gave a more detailed explanation of the state of affairs of entrepreneurship and digitization.
Considered a very informative meeting, this Roundtable highlighted some of issues that entrepreneurs in Kosovo face in terms of digital business.
Arianit Fazliu, gave detailed answers about the route that "Kutia" has done since the beginning of its journey until today.
"We started our company together with my partner Faton Selishta, in 2013. As we were both out of work, after working for four years in a local company, we were came together to do something more. We could either operate as freelancers or form a small team to provide customer service. So, we started our business with local clients and then we managed to get out of local bounds. To this point, we have implemented projects for different companies here and abroad. "Kutia" now consists of 21 workers in its team. The strategy of the company is to start product development within two years because we think this is the future of every technology business."
Digitization has found Kosovo well prepared for people who have achieved great development over a short period of time. But, it is sad to see that a lot of young people are moving out of our country as they are offering better material conditions.
On the other hand, until recently, people focused only on economic and legal directions. IT education was barely a choice. Apart from academic education, Kosovo doesn't offer anything very efficient in preparing new staff in this field.
"The digital world has found few people prepared. Our generation has managed to enter this world and develop despite challenges. However, what should concern us is what will happen next? Do we have enough people who will benefit from this digital world more? I think it is time for us to equip younger generations with vocational education and not just academic education. Theoretical training alone is not sufficient as long as practical training is at a low level."
What next?
To change this situation and contribute to the provision of youth vocational education in the field, Arianit unveiled the newest Kutia's project that will have a major impact on youth education and development in the IT field.
In conclusion, this round-table addressed some important issues. To name some: the products development; challenges encountered in this process; project financing, and the role of government in the development of digitization and what it offers for Kosovo entrepreneurship.