Making world a better place for all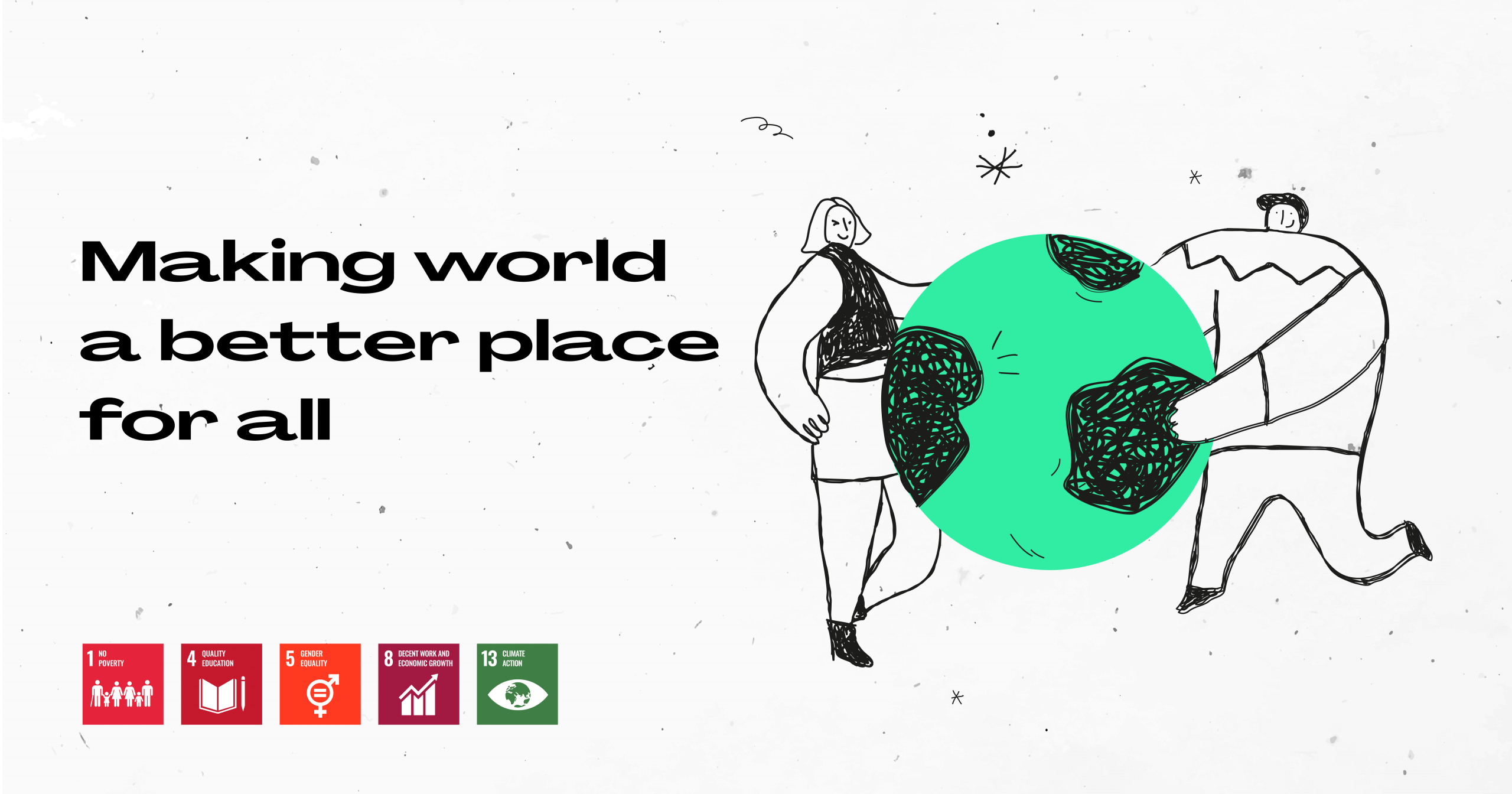 Our contribution to the Sustainable Development Goals
Through our technology solutions and services, we are creating the new future of our generations, every day. To do that, we don't need to switch from the reality, we just need to make the sustainable development, our reality. The way we conduct business represents the future that we are building; it has to be a development that meets the needs of the present, without compromising the ability of future generations to meet their own needs.
In 2015, the 193 United Nations member states committed to the adoption and implementation of the 17 Global Goals for Sustainable Development. The aim of the Sustainable Development Goals, (SDGs) is to end poverty, fight inequality and climate change by 2030 and to secure a sustainable prosperous future for the coming generations.
Responsible Business Conduct
Kutia recognizes the power of the SDGs as a force for good and has committed to aligning its strategy with the SDG Agenda. Achieving impact through responsible business conduct helps us operationalize the SDGs and ensure that the most significant impacts are prioritized. We want to make a positive contribution to the economic, environmental and social progress of our country and avoid and address negative impacts of our activities.
Through a rigorous and structured approach, we have identified 5 SDGs that resonate deeply with our purpose and strategy. These are key areas where we can make the most positive contribution and where we will report on our progress.
SDG1: End poverty in all its forms everywhere
We are committed in providing opportunities for people that are living in difficult financial conditions, especially with inflation situation we are currently in. We must target those living in vulnerable situations, increasing access to basic resources and services, and support communities affected by conflict and climate-related disasters. Alongside with supporting different activities and initiatives, we organizing "Helping families in need" with the purpose of offering essential food products for poor families around the country during the holiday season.
SDG4 – Quality Education
Beetroot Academy Kosovo is a step we took to better serve this goal. This academy provides professional IT training for young people who want to pursue a career in IT. This also plays a positive impact in SDG8 – Sustainable Economic Growth, since 95% of the 500 students who have finished this training are now employed in IT companies in Kosovo. In addition to this, we have just recently applied for another opportunity that aims to provide youngsters with major opportunities in quality education. Through these initiatives, we are confident we will expand the scope of these activities that will serve SDG4 & SDG5.
SDG5- Gender Equality
In 2019, there were only 3 female employees in our company. Now, there are 14+ female employees with important roles. Since 2019, we have created a business strategy focusing on creating a highly supportive work environment for women. Our company is mainly represented by women in different conferences and activities with a high impact on our society. In October 2022, we awarded 17 Scholarships for Women in IT. These scholarships will support women with professional training in IT, additionally giving them job opportunities. This way, women's engagement in the IT sector will increase.
SDG8- Economic Growth
Promoting sustained, inclusive, and sustainable economic growth, full and productive employment, and decent work for all is another SDG goal that we are supporting with the activities that we described above. In addition to this, by offering a highly supportive and beneficial work environment for our employees, we want to make sure that our profits contribute to Kosovo by keeping our young generations working and serving our country.
SDG13 – Climate Action
Climate change is a real and undeniable threat to our entire civilization. Through education, innovation and adherence to our climate commitments, we can make the necessary changes to protect the planet. These changes also provide huge opportunities to modernize our infrastructure which will create new jobs and promote greater prosperity across the globe. To serve this goal, we will support activities and Goal 13 charities. We are already measuring our carbon footprint and we are committed into giving back to the nature by planting trees based on the measurement results. Our services are 100% based on renewable energy.