Why is it important to invest in Team Building?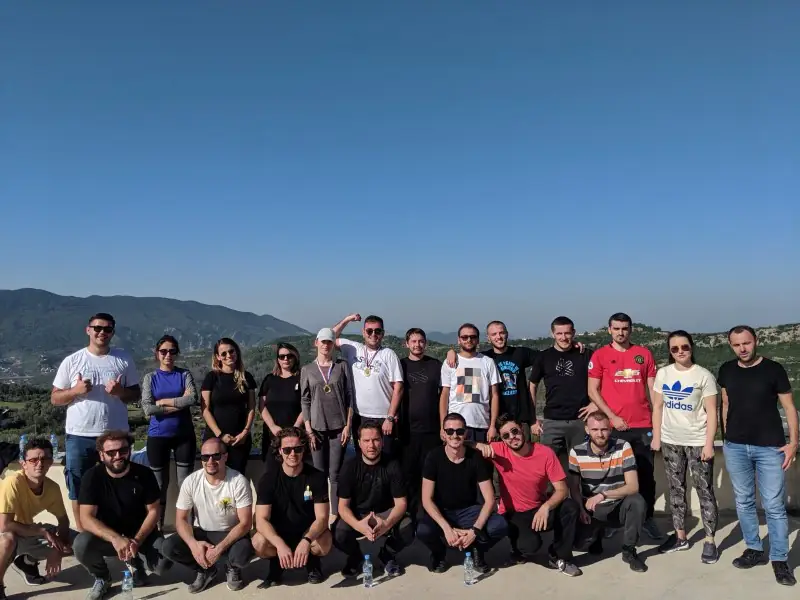 Kutia is one of those companies that highly value the cooperation and well-being of staff. When people join a company, they bring different values to that community. When different values come together in a common vision and mission – success is guaranteed.
In our daily activities we face different loads to succeed in our projects. When co-workers engage in tasks cooperatively, they're often more productive. In fact, teamwork in the workplace can have advantages that go far beyond mere cooperation in completing a task or project.
Effective teamwork can create a sense of cohesiveness and unity of purpose. Each member of the team should feel some sense of ownership, not only of their individual tasks, but of the project as a whole. When workers sense the "team" in teamwork, even before their individual positions within it, the team is strengthened.
As leaders we need to ensure that our team works in a comfortable environment and we must keep in mind that creating opportunities to see group members as "partners in crime" in both good and bad times, is one of the best achievements to function properly.
One of the best ways to see each other outside of our office space and everyday work environment is definitely going on retreatment.
Providing our team members with learning experience and tapping into their passions and interests, can result in a more committed, motivated and productive team.
Even the most self-motivated people need support to grow and learn. A team retreat take learning & development to a different level, by supporting team member's professional and personal growth and maximizing their full potential.
A team retreat is a great way to enable employees to innovate. It can be a canvas where people connect, inspire and educate each other. They explore ideas through collective thinking and may even come up with new ideas or even a new product for the company.
"Kutia" decided to spend the last weekend of October in a very special environment; Pëllumbas village in Tirana. Followed by the beautiful nature scenery and enjoying the autumn fun, all the Kutia's staff took the road for a 2 day retreatment.
On the first day of our stay there was a presentation of the main issues we face as a company, such as what are the processes we will change in order to achieve better products for clients; how we will increase productivity at work; what are the tools we will use for management; what are the technologies we will be targeting in the coming months; the function of the company which implies issues related to how the company loses money and how it earns. These issues were addressed in order for each team member to understand the business processes better.
Day two began in the most relaxing way-yoga. The idea was for everyone to understand the benefits and importance of physical activity. The day continued at the same pace, with games and activities that involved more teamwork. Through these activities, special emphasis was placed on the process of decision-making and the division of roles into groups. It was very funny to see the competition between teams.
One of the best activities was the one with the construction of Formula 1 with the equipment that was available. We were divided into two teams and through the game we have learned a lot about managing- how to organize teams; how to divide tasks; how important it is for the manager not only to work "hands on" on projects but also to monitor the others.
We looked at the points that need to be fixed such as identifying the difficulties encountered in team work, the communication struggles between team members, etc.
Just as we evaluated the Formula 1 build by assessing whether this is the product we can compete with, we looked back to the fact that also the work we do every day is actually measuring the products we create so that our customers are pleased. At the end, the winner of the race was announced and we all dispatched our congratulations.
These two days have greatly influenced the creation of a bond between the team, especially now that we have new members in "Kutia".
"The weekend in Pëllumbas has been a great event that we all enjoyed because it helped us get to know each other even more outside of the workplace while we were given different opinions on many things besides the routine of work we have every day."

What impressed me most was the fact that everything was well organized. Everything went as scheduled and everything was planned ahead. The games were very well thought, we learned as much as we could, especially how to work efficiently in groups. The part that impressed me the most was the fact that despite all the technical problems we had on the road, we were always organized and helped each other so that we would all enjoy that weekend to the fullest."

Gentrit Halili, Front-end Developer
"Last weekend I personally had a great time with "Kutia" team. This activity was important to me since I got to know more of my work colleagues. I enjoyed having those outdoor activities, away from our electronic devices and find ourselves in a whole another environment and all together."

Meriton Reqica, Back-end Developer
"Last week team retreat was awesome. I enjoyed every minute spent there and got to do many things I found interesting such as games, new personalities, adrenaline, team spirit, extra info about the company, and many more".

I personally find it very exciting when it comes to team spirit. I find myself knowing more about my coworkers, their opinions, their skills, and creativity, which I think helps a lot in problem solving and everyday-job routine."

You get to feel a whole lot better the week after, once you go through a weekend like that. Especially if you're a winner☺."

Qëndresa Hoti, Front-end Developer
"I was part of the team building activity organized by Kutia in Pëllumbas, Tiranë. We were divided into two teams and I was part of the winning team. This experience was something new but very rewarding to me. Through it, I have come to understand the effect of teamwork better, in order toI achieve a common goal. During the activities, we gave the best of ourselves. I think it is very important to have such activities in order to advance the team professionally."

Nesar Havolli, Web Developer
"For me it has been a wonderful weekend full of activities, information but also lots of laughter with the whole team. In my opinion, such organizations should be followed so that the team members not only notice themselves as employees of a company but also as a part of a friendship, which results in knowing a person in another form of life (out of work). The activities we did there are important because we understand better how the team is organized by other team members (not only by the team leader, management or any leading part of the team). And finally, I consider the staff retreatment as a positive impact on our daily work, increasing the motivation and productivity."

Shyqeri Gashi, Web and Mobile Developer
"From the "Team Building" activity we learned how to properly work together as a team in managing a project/game. Given that it was the first time I participated in such an event, I can say that the general organization was in a high level. We are looking forward to know what we need to change or what we could have done differently to achieve greater results."

Hazir Bajrami, Back-end Developer