UI vs UX: Which career path is for you?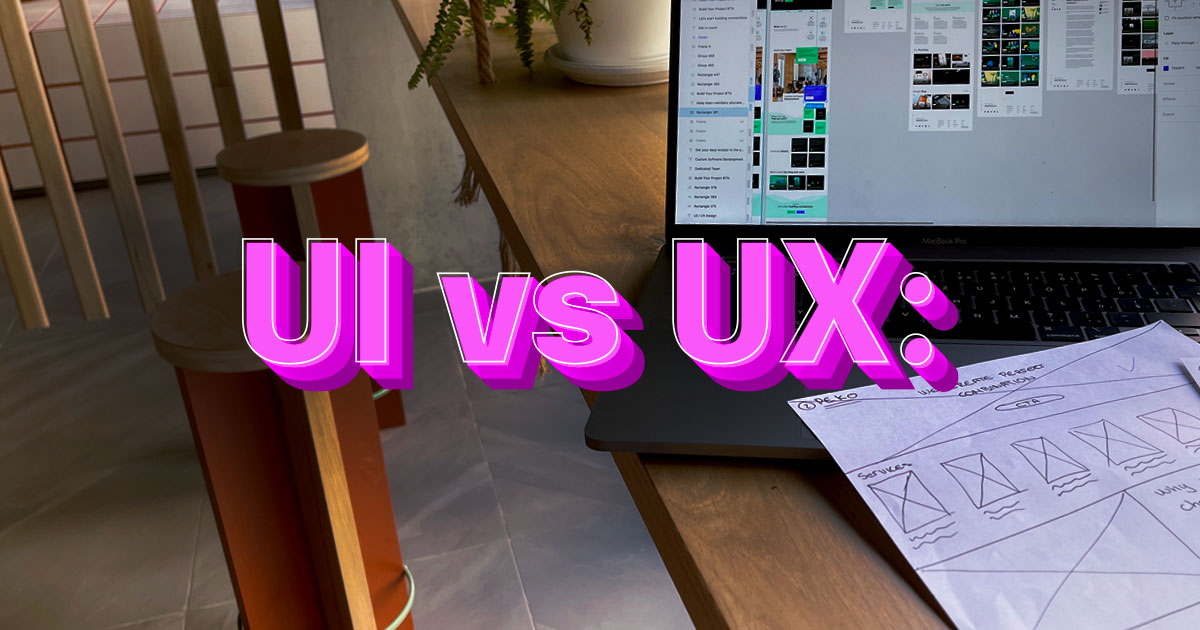 Have you been asking yourself: What kind of a designer am I?
This is a very common question that young people ask themselves when starting a career in design. We want to help you find an answer to your question by breaking down the UI & UX common design roles.
UI / UX design terms are often used together, especially in Kosovo. Actually, these are two very different things.
UI Design stands for ''User Interface Design'' while UX Design refers to "User experience Design''. They both overall contribute to a successful digital product.
Do you want to find out which career trajectory is the right one for you?
UX Designer
Much of the work of UX Designer focuses on the early stage of the project; figuring out what users want and need in relation to how the workflow will work with user experience.
UX starts with a problem and ends with a wireframe or prototype. UX Designer needs to understand the customer's journey. That means understanding the target audience, interviewing customers and defining user-flow based on research and data. Early testing in the design process with a rough prototype or wireframes is the best way to know if they're doing their job right or not!
Roles and Responsibilities
Conducting user research to understand what a typical user wants or needs from the type of digital product they're creating.
Creating a strategy for the product's design, including how to best meet user needs, user journey maps, and product requirements.
Analyzing interactions to see how users are likely to actually use the product in the real world, rather than just in "best-case" scenarios.
Creating wireframes and prototypes to guide the design of the actual user interface, taking into account user needs and the overall product flow.
Making sure that user needs are addressed throughout the design process and conducting user testing as the design is refined.
UI Designer
UI Designer focuses on the way the product looks and functions. They work from the wireframes or mockups a UX Designer has provided. UI Designer transmits the brand's strength and visuals assets to the product's interface.
A UI Designer focuses on how the colors, icons, typography, and images of a design connect to the brand of the product.
While User Interface Designers are primarily responsible for the look of a product, they don't ignore User Experience. UI designers engage users in particular ways while making interactions more intuitive and making digital products easier to use.
UI and UX Designers are both vital parts of the digital product design process. The two roles are complementary and sometimes performed by the same designer.
Roles and Responsibilities
Creating the finished designs based on the wireframes and prototypes. This includes a lot of attention to detail to make sure the finished product has a consistent visual appearance and functionality across all pages and sections, as well as making sure it meets the needs outlined by the UX designer.
Communicating with both the UX designer and engineering team to make sure that user needs are met and that the design functions the way it's intended. They may also be involved in problem-solving if a particular function isn't feasible from an engineering perspective.
Analyzing competing products and how their visual style impacts the way the product is used and perceived by users. This is also a chance for the designer to figure out better ways to do things than what the competition has done.
Creating a responsive design that will look good regardless of screen size.
Regardless of which career path you choose to follow, learning the roles and basic skills for both UX and UI can lead to more career success and opportunities. Share with us your experiences/thoughts on this topic by commenting on our social media (Facebook, Instagram, Linked In, Twitter).