Outsourcing conference in Kosovo – KosICT 2019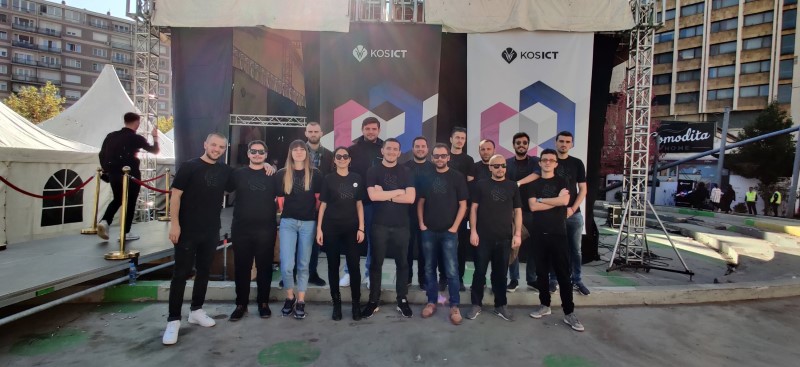 On Thursday and Friday (24-25/10/2019), thousands of people gathered in downtown Pristina for the largest technology conference. Everything seemed to be in the right place at the right time. The good autumn weather and the presence of the most diverse people brought a pleasant and positive atmosphere.
This conference is one of those that will be remembered for a long time. That's because everything was at the right level ranging from technical organization to other details that made this event achieve its goal.
Events like this make us even more aware of how much potential lies in the field of technology and entrepreneurship in our country. We were present at many presentations featuring very important topics and interesting ideas, both on Main Stage and Developer's Stage.
"Kutia" as a Gold Member of STIKK was pleased to make its contribution to the presentation and treatment of topics affecting in one way or another the work and further development of various software and outsourcing companies.
Arianit Fazliu, the CEO of "Kutia" moderated the discussion panel "DEVELOPMENT OF OUTSOURCING AND HOW KOSOVO CAN LEARN FROM OTHER EXAMPLES".
This discussion highlighted some very important points related to outsourcing and the challenges that different companies face in achieving their goals. The discussion took many positive feedback's and was described as very interesting and informative.
Faton Selishta, the CTO and Astrit Zeqiri – Team leader in "Kutia" presented "MOVING TO FULL STACK JAVASCRIPT DEVELOPMENT" on the Developer's Stage. The presentation attracted the public's attention and there was a great deal of interest in this topic by receiving positive feedback as well.
Our CEO, Arianit Fazliu was also a part of the evaluation jury in the competition of young programmers from the Digital School. The competition brought to the stage so many talented children in all kinds of ages. It was impressive to see projects done so well by these young programmers.
All the presentations highlighted the great use of technology and internet in Kosovo and beyond. Being a society that for a few years has made a great deal in the field of technology and entrepreneurship not only domestically but also abroad, such a conference was another prove than with such potential, the various challenges that we face in our daily work will be surpassed.
A special space of the conference was dedicated to new startups to present themselves and their products/solutions. We had the chance to hear the most impressive new ideas in this space full of innovators and developers.
This conference brought together important people from other countries such as Germany, America, Greece, Austria, Canada and others. From conversations with representatives of the various companies that were present at the conference, we heard very good comments about what they found among us. They seemed quite surprised by our potential and achievements in the field of technology.
We hope that such an event will always take place in our country and beyond, as it conveys great value in the field of technology and development.
What internationals think of Kosovo?
"First of all I am happy to be here because in this kind of environment you get inspired from all the positive vibes that you get. I had completely wrong perceptions about Kosovo, and I came here and I see boost of growth, of happy faces! It's an honor to be here because you see how thirsty these young people are to know and collaborate better. It's a privilege to be here and to meet all of these people!"

Lena Kyropoulus, Journalist in www.bcimedia.net – Canada
"When you google about Kosovo it's not that you get positive information and news, it's a mindset- they first put bad things about a country rather than the good ones. But when people come here to visit, this totally changes. They are impressed by this country and they even consider living here. It is so nice in here, people are so open and so lovely!"

Goran Kelemen, Business Consultant
"It's the first time for me to be in Kosovo and I am super surprised. My visit here changed my perceptions completely. For me it is a discovery, it's quite a journey and I am very delighted with all the bright minds in here. The population is very young and very ambitious, very creative, very professional and also very well connected and I've seen high quality of software products and great ideas. I really admire the creativity power of Kosovo!"

Prof. Dr. Rolf Becker, University of Applied Science "Rhein-Waal"
"I am positively suprised about this fresh and young energy I found here and about knowledge and well educated people in here. Also I am surprised about the curiosity of people in here to develop and to learn more. This is not what you expect in Germany for example, we have a totally different view and we are still in the old view from years ago, when Kosovo was very poor and in bad condition. I am happy to bring such positive information to Germany and share this great experience I had in Kosovo!"

Christiane Amini, International Business Consultant