Hire the top software developers from Kosovo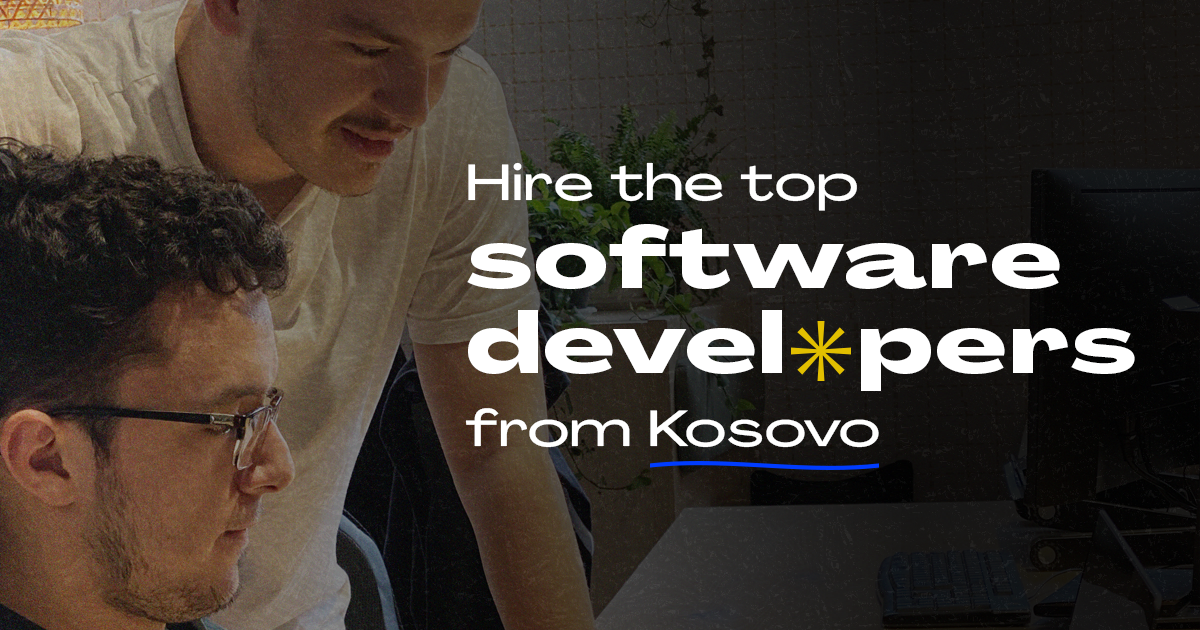 Choosing a team that can translate your business needs to quality work is an essential factor for your business growth. Trusting a team to build your product requires a deeper understanding of expertise, culture and talent skills of the company you're considering working with.
In this article, we will make the process of choosing a software development team from Kosovo much easier for you.
Who are we?
Kutia is a software development company that is headquartered in Pristina, Kosovo, with offices in Albania, United States and Sweden as well. Since its establishment in 2013, our company has grown in people, expanded its geography, and brought quality software engineering services closer to our clients worldwide.
Working with the team of Kutia means working with some high-skilled, innovative, open minded, English skilled & amazing young people who are ready collaborate in delivering high-quality services for our diverse clients, whenever they are!
Why choose Kosovo?
If you haven't yet heard about Kosovo or you still haven't considered it as one of your options, you have the chance to understand more about how much you can benefit from this country that is making big IT turns and is increasingly becoming a magnet for clients from around the world. Kosovo has emerged as one of Europe's top locations for global sourcing of IT services.
It is situated in Southeast Europe in the central part of the Balkan Peninsula. In the southwest, it is bordered by Albania, in the west by Montenegro, in the north and east by Serbia and in the southeast by North Macedonia.
Known as the youngest country in Europe since its declared independence on 17.02.2008, 53% of its people are under the age of 25. Kosovo also has the youngest population in Europe. In Pristina, the capital, the average age is 28.
This percentage of youth in Kosovo is an important indicator of the continued development both socially and in people's mentality.
Through its youth, this small isolated county is reaching beyond existing boundaries, evolving increasingly in the field of innovation, technology and entrepreneurship. According to the Global Sourcing Association (GSA) the Southeast Europe – Kosovo region has become an attractive location for sourcing/outsourcing due to the low cost of qualified staff and a large number of highly educated, bilingual and qualified IT professionals.
Our services
We deliver specifically designed services & solutions for our clients, to cater to their unique business goals. Our team uses a personal and innovative approach by evolving ideas and turning them into tangible visual results, which help us deliver top-notch services for software and mobile development. Our software solutions power mature businesses in Healthcare, Telecommunications, Banking and Finance, Retail, Education and other industries. From start-ups to large-scale organizations, our developers can work with any development project.
Do you want to know what we're currently working on?
Our clients are very diverse. This diversity helped us grow as a team by fostering a feeling of innovation and progression. Working on different projects, with different technologies and on very different cultural approaches, we have become a first choice to our clients in Norway, Switzerland, Sweden, Germany, Finland etc.
Here are some of our most current projects we're working on:
Our client operates in the banking and blockchain industry, with headquarters in Zurich, Switzerland. The project involves building a digital asset management tool for end customers and admin panel to manage it accordingly.
Technologies: React (Typescript, Jest, React Testing Library) + Material UI, Nest.js Infrastructure: Docker, GitLab CI, Kubernetes.
Our next client is an award-winning software development company with more than 20 years of experience implementing custom high-tech solutions for leading companies in the technology, media, telecommunications, and defense industry. With a positive reputation as a reliable IT services partner that consistently delivers on time, within budget, and with great ingenuity, they are certified by NATO AQAP 2110 & 2210 and ISO 9001: 2008 and have received IT industry awards in Europe and North America.
Are you curious about working with us?
Contact us to book a meeting and learn more at: sales@kutia.net