What is it like to work in Sales at Kutia?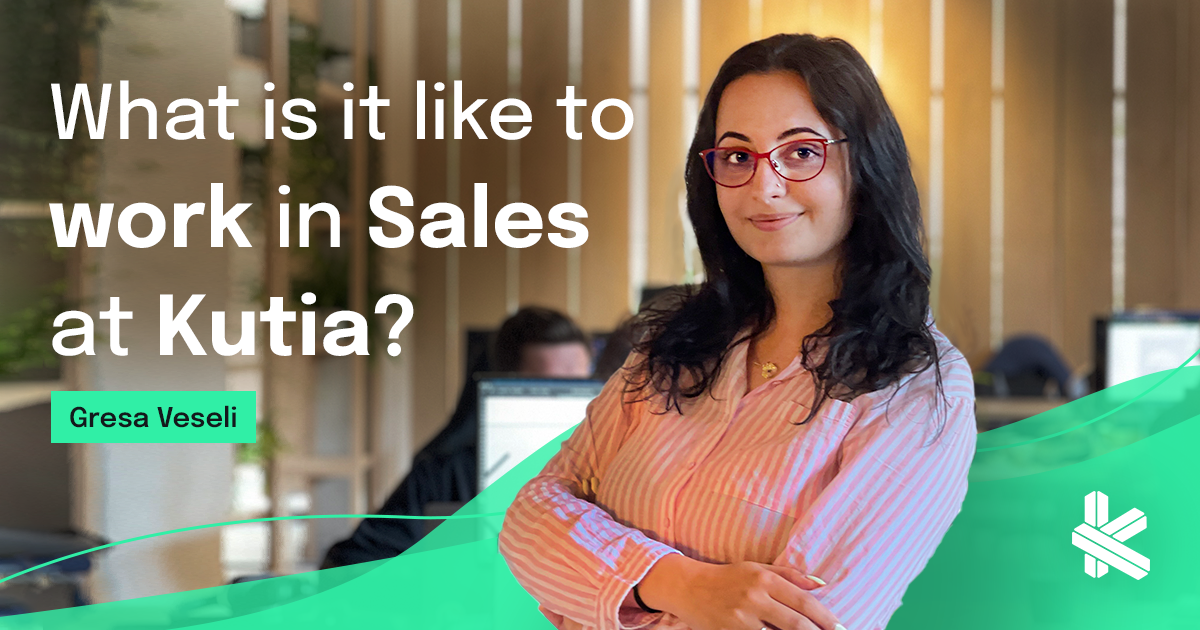 Before I started working at Kutia, I had a misconception that all jobs in a software development company are only technology-based. This gave me the idea that you necessarily need to possess technical experience, in order to work at a software company. But, working in sales at Kutia, isn't the same as common sales that most of us have an impression of.
Besides the responsibility of generating new customers, new projects, managing relations with current partners, following the market demands, and trying to be one step ahead, my role as a sales manager at Kutia consists of so much more. One of the things that I value the most about my job at Kutia, is the boundless opportunities within the company that give me a chance for consistently professional and personal growth. And for me, this is a solid conviction that persistence shows value in everything we do and that it helps us become a better version each day.
What is your day like?
Everyone who knows me knows that coffee is the keyword of my morning start. Afterward, I go through the things I did yesterday, making sure I didn't miss anything important. I continue with planning my day ahead, highlighting the priorities of the day. I usually use the morning up until lunch, for the tasks that require my full attention and concentration. Even though things don't always go as planned when you work within the software industry :D. Before my working shift ends, I make sure to not leave any emails unopened as well as follow up with our partners regarding different matters. Even though we have a fixed schedule, for me, the working agenda ends when all daily responsibilities are settled.
What skills are most important for this job?
In my role, communication is the key! Working in sales at Kutia means being able to listen to what people are saying, understanding and qualifying their needs and interests, and providing them with possible solutions. Being organized and strategic is very important too – there are days where complex situations arise, and the ability to try to find a solution within the desired timeframe plays a huge role in the whole process. I have a principle though! I always plan my week's plan based on priorities! This is very helpful when it comes to being efficient and on time. Being organized also means documenting your work and being organized administratively.
Final words
I believe that one of the most important things in everything that we do is to identify our responsibilities and to own them. I am lucky to be part of a company that shares the same values, making my job more interesting and meaningful.